2Rock Acrobatic Rock 'n' Roll Club
Acrobatic Rock 'n' Roll Workshop in Cambridge, 24 March 2017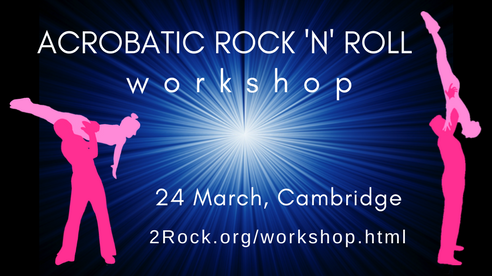 Acrobatic Rock 'n' Roll Club 2Rock would like to invite you, your dance or acrobatic partners and your team-mates and teachers to an Acrobatic Rock 'n' Roll Workshop in Cambridge, UK. You can find out more on the Workshop Page.
Would you like to book your place or ask question? Contact Steve.
London courses temporarily closed
Sadly, we had to cancel our dance studio booking as the Westminster Academy Sports management wanted to charge us double since September, which is not sustainable. Also in the same time, Steve has been working shifts in his day job temporarily, which didn't allow him to teach regularly. But now he is going to look for another place to practice. Until this is sorted, there won't be any regular sessions.
As already mentioned in our 2Rock London group on Facebook, if you know a space (dance studio, sports hall, gym) suitable for us (available sound system, mats, high ceiling, fee ideally below £20ph), please let us know. Your help is much appreciated. Meanwhile, you still can register your potential interest by contacting Steve - you can contact us by form.
General information about our acrobatic rock 'n' roll sessions
Do you like dance aerials, adage, lifts, pair acrobatics? Have you danced acrobatic rock 'n' roll before? Or have you never danced acrobatic rock 'n' roll but would like to give it a try?
Partner: There is no need to bring a partner to this sessions, simply turn up. Having a permanent partner is an advantage though. Lessons are open to everyone of all abilities and interests. If you have any questions, please contact us.
Dress code: Sporty (similar to fitness gym or aerobic classes), something not very baggy, clean trainers, towel, water bottle.
Session structure: in the first hour: warm-up, rock 'n' roll dance preparation; second hour: acrobatic preparation, 1-3 acrobatic figures, cool-down. Those not interested in dancing can use first hour for repeating of acrobatic moves from previous sessions. Occasionally all teaching is squeezed into the first hour, followed by an open hour dedicated to practising, repeating of previous stuff.
If you like related sports like cheerleading, acrobalance, acro yoga, figure ice skating, trampoline or circus acrobatics, you will certainly love acrobatic rock and roll. Or maybe you would like to use your gymnastic skills or wish to improve your aerials, adage and lifts in other dances like Modern Jive or Lindy Hop. Why not join us and try something new? It is safer than you think. Everybody can do this.
ACROBATIC ROCK 'n' ROLL is the MODERN European style of competitive dancing, slightly different from the authentic 1950's style. And 2Rock is the acrobatic rock 'n' roll club in London and Cambridge, where you can learn this fast paced energetic dance.
We would like you to fill in a simple questionnaire (10 questions in 3 minutes) on the Survey page in order to set up the structure of the sessions to meet the requirements of the majority of members.
The club is lead by Steve 2Rock (Stefan Turok), an acrobatic rock 'n' roll coach with many years of experience as a coach, judge and dancer. He is still an active dancer, has been competing at World and European Cups with his partner Laura Cope. These competitions are organised according to WRRC's rules. The club is a member of the BRRF, British Rock 'n' Roll DanceSport Federation.
The 2Rock website has been active since 8/4/2011. It changes regularly, so check the website from time to time, especially before your intended visit.
Our performances
Our own acrobatic rock 'n' roll dancers, couple Steve Turok and Laura Cope have performed for Got To Dance Series 3. The performance has been first time broadcast on Sunday 8th January 2012 at 7PM on Sky1 HD TV.
You could have seen them also performing at Corn Exchange or ADC Theatre in Cambridge at annual CUCDW dance shows, Cambridge University May Balls, Royal Albert Hall in London, also in Blackpool and many competitions, balls and other events.